BLACKMAILLE
Part 39 - Shop Walkthrough, Part Two
by Lord Thomas the Black

---
BLACKMAILLE
Shop Walthrough, Pt 2
Welcome back to another edition of "Blackmaille"! As promised, this month I give you part 2 of my shop walkthough, which was split due to the size constraints of my email systems.
Technology... gotta love it. Anyway, on with the show...
<![if !vml]>
<![endif]>
Fig. 10 - The armor stand, anvil, stump, and work in progress. I'm currently working on flattening rings for riveted maille here. The pile of chains on the armor stand are part of a largess project in the works. Shhh... don't tell anyone about that.
<![if !vml]>
<![endif]>
Fig. 11 - The mandrel against the wall
<![if !vml]>
<![endif]>
Fig. 12 - Workbench 1 and the storage underneath. This storage area holds my art supplies, maille and leather scraps, and miscellaneous junk.
<![if !vml]>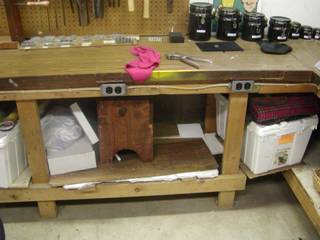 <![endif]>
Fig. 13 - Workbench 2, with storage. This picture gives you a view of the longer workbench along the back wall of my shop. The storage underneath holds the boxes I pack my renfest and other demos into, as well as my teaching supplies
<![if !vml]>
<![endif]>
Fig. 14 - More workbench 2, more storage. This storage area has my jewelry case, and my leatherworking tools and supplies (the white box holds dyes and cleaning supplies). On the bench, you can see my tumbler, blowtorch, and annealing rack (among other things).
<![if !vml]>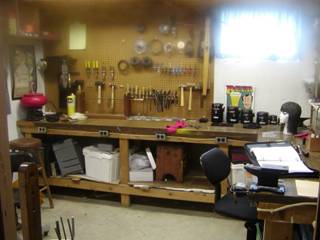 <![endif]>
Fig. 15 - Shop overview. Sorry about the glare in the corner. I have a window there, and it was unavoidable
Well, that's it for my shop tour. As you can see, it's a fairly well-organized space, and while small, it has enough room for three or four people to work comfortably. I find that a spacious, well-organized workspace is important for good results. Everything is close at hand, and I can find what I'm looking for with a minimum of trouble.
Thanks for joining me for another month of Blackmaille! As usual, any questions, comments, hate mail, or fan mail can (and should) be sent to me at:
Blackmaille
c/o Tom Beckett
13628 Belmead Ave
Grandview, MO 64030
Or you can email me at: tbeckett1@kc.rr.com
See you next month!
---
---
Back to the Blackmaille Webpage
Back to the Cúm an Iolair Information Webpage
Articles: ©2003, 2004, 2005, 2006 Thomas Becket/Lord Thomas the Black
e-mail questions & comments to: tbeckett1@kc.rr.com
Hosting: ©2003, 2004, 2005, 2006 Ron Knight/Modar Neznanich
e-mail: modar@everestkc.net