BLACKMAILLE
Part 63 - Event Write-up: Kansas City Highland Games
by Lord Thomas the Black

---
BLACKMAILLE

Event Write-up: Kansas City Highland Games
<![if !vml]>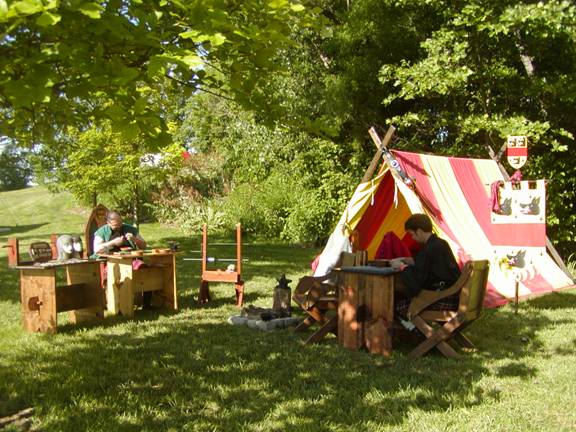 <![endif]>
Welcome back to another month of Blackmaille! This month, I'd like to plug an event that the Black Oak Maille Guild has demonstrated our craft at for the last two years, with the third season rapidly approaching: The Kansas City Highland Games!
The Kansas City Highland Games have been an annual event in the Kansas City metro area for going on 32 years. For those not familiar with the highland games, it's a sporting event consisting of such traditional Scottish athletics as the caber toss, sheaf toss, hammer throw, and others. The Kansas City games also have other Scottish attractions like Scottish food, sheepdog trials, highland cattle, clan tents, and history and culture demonstrations.
The 2007 Highland Games were the Black Oak Maille Guild's first demonstration outside of the Renaissance Festival and the SCA. In an effort to get our name out there, and in turn, bring more notice to the organizations we're affiliated with, I'd contacted the highland games people prior to the 2006 renfest season. I invited them to come out to the renfest and see what we do. They liked what they saw, and invited us to demo at the KCHG the following year.
Our first season was a good one. It was a lot of work setting up and tearing down, with a demo in between, all in the same 24-hour period. Basically, it was the first and last days of renfest, with no rest in between. It worked out well for us as a shakedown for renfest. Since the KCHG falls two months before the KCRF, we're able to load our demo boxes, pack the car, set up and tear down, and iron everything out before renfest. If everything works right, we leave everything packed between demos. If not, we have two months to figure out a better way to make it work.
The event itself was a blast. We got a lot of work done, got to see some good shows (we were set up behind the Sons of Alba swordfighters), and got a lot of people coming by to see our demo. We got a lot of compliments from the event coordinators, got an invite to the volunteers' picnic, and most importantly, we got invited back for the following year.
The only complaint I had about the first season was that where we were set up, I was in direct sunlight for most of the day. This resulted not only in a savage sunburn, but in not being able to work for hours at a time, as the maille was too hot to handle. We resolved to fix this the following year, setting up a little further to the right of the Sons of Alba swordfighters, which put us more in the shade.
The following year (2008), we again set up behind the Sons of Alba Swordfighters, but we were in better shade this time around, with only an hour or so in direct sunlight. We got a lot more done thanks to this, and were told next season we'd be allowed to set up further down the treeline, where there was even more shade. This season, the KCHG ran three days, so we got to demo on Friday (briefly, before it was dark), all day Saturday, and part of Sunday. This allowed us to be seen by a lot more people, and we got a lot more maille done with the longer hours. All the fun of the previous season was had, and then some, and the Black Oak Maille Guild was invited to be on the Living History Tour at the Kansas City Renaissance Festival by the tour coordinators themselves! Woot!
Sadly, Sunday we had to tear down early, as a major storm was fast approaching the Riverside site, but there, too, my crew showed their professionalism, and we were torn down, packed up, and off site in less than half an hour! Still, even with the shortened day, we had a great time, and look forward to doing this again next season!
The Kansas City Highland Games is an amazingly well-run event, thanks largely to the efforts of Paul and Kristi Peterman. These two tireless individuals spend all day racing about the site, putting out fires, fixing problems, and checking people in (among a laundry list of other thankless tasks), and the event wouldn't be what it is without them. The KCHG is a fun, family-friendly event, with lots to see and do, even if you're not interested in Highland sports, there's still the sheepdogs, cattle, clans, food, music, dancing... the list goes on. If you're ever in the Kansas City area in June, I highly recommend adding this event to your "to-do" list. It's well worth it. And stop by and say "Hi!" to the Black Oak crew while you're at it!
Thanks for joining me for another month of "Blackmaille"! As usual, any hate mail, fan mail, questions or comments can (and should) be sent to me at:
Thomas Beckett
13628 Belmead Ave
Grandview, MO 64030
Or you can email me at: tbeckett1@kc.rr.com
Thanks again for joining us for this month's "Blackmaille! Next month, "Song Contest III Winners!" See you then!
---
---
Back to the Blackmaille Webpage
Back to the Cúm an Iolair Information Webpage
Articles: ©2003, 2004, 2005, 2006, 2007, 2008 Thomas Becket/Lord Thomas the Black
e-mail questions & comments to: tbeckett1@kc.rr.com
Hosting: ©2003, 2004, 2005, 2006, 2007, 2008 Ron Knight/Modar Neznanich
e-mail: modar@everestkc.net