IN MEMORIAM
Cúm an Iolair has endured the loss of members over the years.
Nothing can overcome the sorrow of such loss.
And no one can replace them.
In respect and tribute, we present this page to serve as our
Hall of Remembrance
for the members and honorary members of Cúm an Iolair
who have crossed over to the other side.
They will all be missed, but never forgotten.
---
---
---
Baron Cormac MacCumail
(David Reed)
Cause of Death: Health/Medical Concerns
Or, a wolverine rampant guardant sable,
marked argent, within a bordure vert.
---
The Valley of Eagles has
been lessened by one great friend.
Yet though your arms will not be here to shelter
those who have come into your circle of love and giving,
and your voice, speaking advice and wisdom shall be heard no more,
the spirit you have imparted to us shall always be here,
and be alive in our memories.
Rest in comfort, our friend.
You will be missed.
Baron Modar Neznanich & Baroness Briana Etain MacKorkhill
---
---
---
Lord Phillipe de Mortain
(Phil Nichols)
Cause of Death: Health/Medical Concerns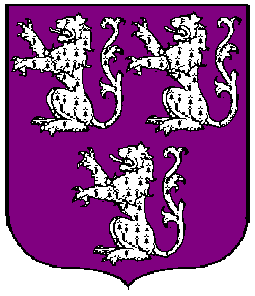 Purpure, three lions sejant erect ermine.

---
How do we put into words all that we shared?
How do we state what your passing has done to us?
It seems that rarely a day passed that you
did not grace us with
a bit of your wit and humor.
May you rest in comfort on the Other Side
until we all may meet up again and
continue the friendship shared on this side
that was a but a start.
Rest in peace, our dear friend.

Baron Modar Neznanich & Baroness Briana Etain MacKorkhill
---
---
---
RIVER JOURNEY
by Modar Neznanich
-1979-
Life is a journey we must all take.
A flowing river we must sail,
No matter how long or how short.
Sometimes that river bends,
And someone's ship is lost from sight;
At least for a time.
But, in the end, we all dock
At the same port.
Each of us having sailed our own course,
In our own way, but all are part
Of the same waters.
And this day,
After years of sailing alone,
I have met someone.
Someone to sail with me,
Beside me,
To help me weather the storms,
And keep me from grounding
In shallow waters.
Someone who fills the days
And ends the loneliness.
Someone who cares;
Someone I will always love.
And if the day should ever come
That the river bends
And one of us must sail on,
I shall not fret
Even though I shed tears of parting.
Because I know that one day
We shall both be docked
At that same port.
Together forever.
The end of our
River Journey.
---
---
---
If you know of some member (or honorary member) of Cúm an Iolair who should be added to this page,
please contact Baron Modar at: modar@everestkc.net
---
To the Forgotten Sea Hall of Remembrance
To the Cúm an Iolair Information Page
Baron Modar Neznanich
Baroness Briana Etain MacKorkhill
e-mail: modar@everestkc.net