Archery
"Avaunces et arches bien"
(Advance and shoot well)
An ongoing site with articles and links on archery as it applies to the Middle Ages and the SCA.
---
Archery Articles & Links
---
---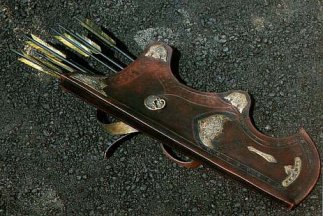 ---
---
---
---
This Archery page is published by Ron Knight (known in the SCA as Modar Neznanich) for the edification of the members of the Barony of Forgotten Sea, its cantons and the members of the SCA. It is not a corporate publication of the Society for Creative Anachronism, Inc. and does not delineate S.C.A. policies. In cases of conflict with printed versions of material presented on these pages or it's links, the dispute will be decided in favor of the printed version unless otherwise indicated. Opinions expressed are those of the authors.
---
---
---
---
©1998, 1999, 2000, 2001, 2002, 2003, 2004, 2005, 2006, 2007, 2008 Ron Knight / Modar Neznanich
e-mail: modar@everestkc.net
Baron Modar Neznanich, Order of the Pelican