BARDIC ARTS
An ongoing site with articles and links on the Bardic Arts
as they apply to the Middle Ages and the SCA.
---
---
The CalonSound Project
[Stories, songs, poems & instrumental works of the artists of Calontir]
A Circle of Bards
[Bardic wiki, blogcast, etc]
by Niall Dolphin

Barony of Forgotten Sea Bardic Guild
Gunnbjorn's College of Bardic Knowledge
Meridian Bardic College Archive
Bard Pages
Andrixos Seljukroctonis (Lyrics & Music)

Katriana op den Dijk (Songbook)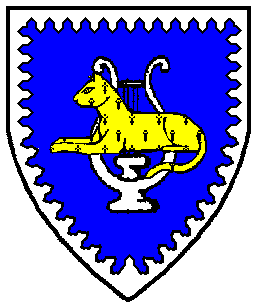 Mikal the Ram (Stories & Songs)

Rosalind Jehanne (Bardic Page)

Story-Telling
Storytelling Technique
(writings by Yaakov HaMizrachi)
Storytelling in the SCA
(Dialog between Mar YaakovHaMizrachi and his sister,
Aura of Befudlement, on the subject of storytelling)
Period Sources for Story Telling
Dolan Madoc - Siridean's Breach

Songs
New→ Archery Songs
Cantaria: A Learning Library of Bardic Songs
Songs Sung in Ealdormere
section in Library area of webpage
Music in the SCA: A Case Study of Folk Song
by Thorvald Grimsson
Some Traditional / Medieval /Folk Songs
Cassandra Peverell - Soldier's Daughter
(sung by Dolan Madoc)

Music
Peirol's Vielle:
Instrumental Participation in the Troubador Repertory
by Joel Cohen
A Concise Guide to Medieval Instruments
Thesaurus Musicarum Latinarum
An evolving database of the entire corpus of Latin music theory
written during the Middle Ages and the Renaissance.
Dance
Poetry
Poetry, Verse & Song
by various artists
Poetry by Modar
(mostly free-form)
Theatre
General Information
Links of Links
Memorial Notation for
Baron Cormac MacCumail
(A True Bard)
Memorial Notation for
Signy
(A Bard Whose Life Was Cut Short)
Lyrics of a few favorite (modern) songs are here.
Missing in Action
The following webpages no longer exist at their former site.
If you happen to know where these articles and pages are
now located, please contact me at: modar@everestkc.net
On Vocal Performance
(article by Mathurin Kerbusso)
Good Story Telling
(article by Fiona O'Mull)
Karl Faustus von Aachen (SCA Songs)
Karl Faustus von Aachen (SCA Filks)
List of Sources of Chivalric Stories
THE RED BOOK OF LOCKSLEY
SCA Song Page (collection by Maureen O'Brien)
---
---
If you are not familiar with the SCA but would like to know more,
check out the following links:
---
This Bardic Arts page is published by Ron Knight (known in the SCA as Modar Neznanich) for the edification of the members of the Barony of Forgotten Sea, its cantons and the members of the SCA. It is not a corporate publication of the Society for Creative Anachronism, Inc. and does not delineate S.C.A. policies. In cases of conflict with printed versions of material presented on these pages or it's links, the dispute will be decided in favor of the printed version unless otherwise indicated. Opinions expressed are those of the authors.
---
©1998, 1999, 2000, 2001, 2002, 2003, 2004, 2005, 2006, 2007, 2008, 2009, 2010 Ron Knight
Baron Modar Neznanich, OPel
e-mail: modar@everestkc.net